Live and work in paradise: coliving in Fuerteventura
Do you think it's possible that the word "work" doesn't sound synonymous with "boring"? Imagine for a moment living a few months of adventure in a paradisiacal place without it necessarily being a holiday.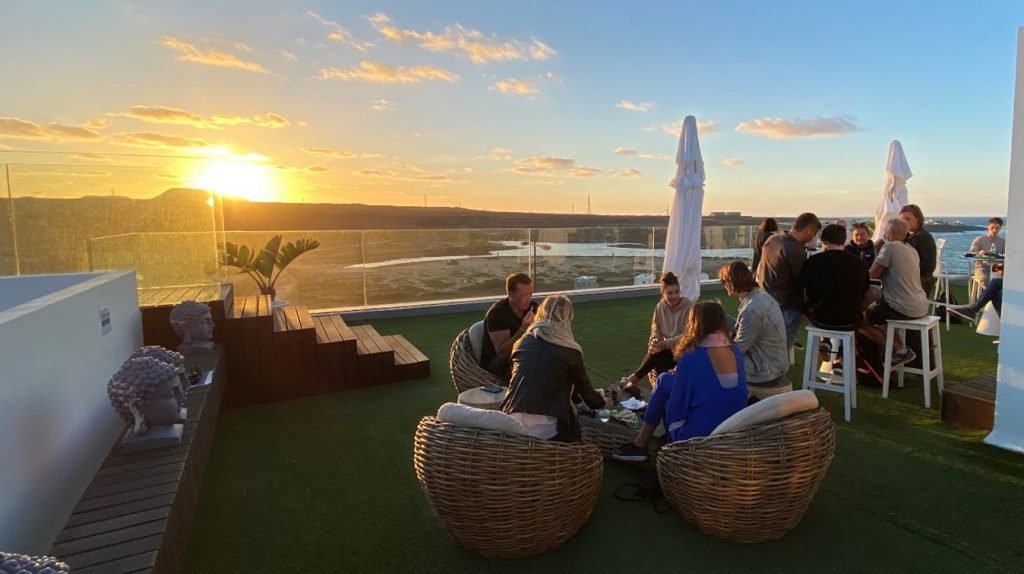 Coliving in Fuerteventura: from dream to reality
We follow Nathan, a digital nomad and geek in his time, who chose to live in coliving in the Canary Islands. He chose for an idyllic working environment, by the sea… in Fuerteventura.
For a few weeks, he has been staying at the Co-nomad Life coliving space, a luxurious resort which has recently converted part of its rooms to welcome colivers looking for a better quality of life: the "co-nomad".
As digital nomads can plug in their computers anywhere in the world, they may well choose locations around the globe to enjoy the environment and work in the best conditions.
So here's what your days look like – check your passport's validity! After reading this, you will already be flying to Fuerteventura!
8 :00 am – Sport to start the day
What could be more magical than taking care of yourself facing a spectacular sunrise? For a gentle and zen wake-up call, Nathan starts his day on the coliving rooftop, with yoga sessions included in his "nomad package".
9:00 am – Work time!
It's time to get to work. But running after the bus or driving for hours to reach the office, no way!
The complex coworking space offers unlimited access 24/7 with high-speed Wifi, unlimited tea and coffee.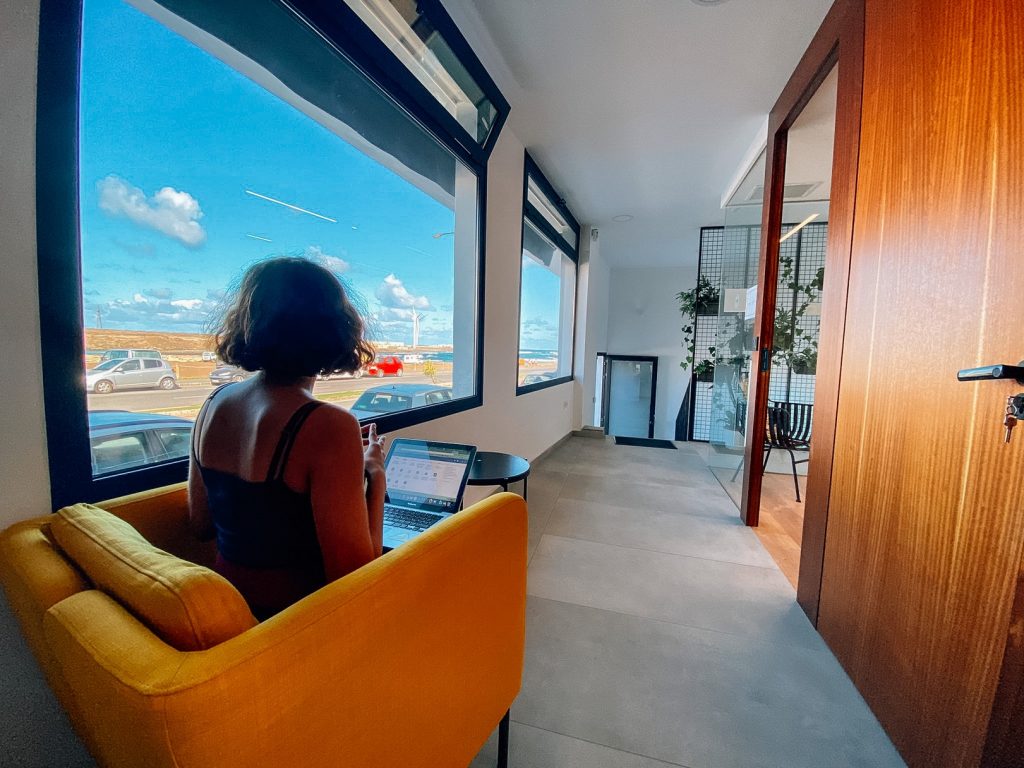 12:00 – Lunch on the promenade
A break is useful after working hard. It's time to relax neurons.
The city center is only 5 minutes away on foot. This is the opportunity to go for a walk with a small group of colivers and to have lunch by the sea for the mid-day break.
Sharing and conviviality are the order of the day!
1:30 pm – Back to the office… or not!
Nathan has a lot of work to do today. He returns to the coworking space to finish his mission of the day and deliver it by the end of the day to his client in France.
But between 2 calls and 3 emails, he takes a dip in the apartment complex swimming pool… to refresh his ideas.
Coworking in Fuerteventura is so much nicer!
6:00 pm – Socialising time
Nathan has sent his work to his client. Now, he can turn off his computer and relax.
It's Wednesday! Let's meet on the rooftop to join the colivers and work on the network a bit.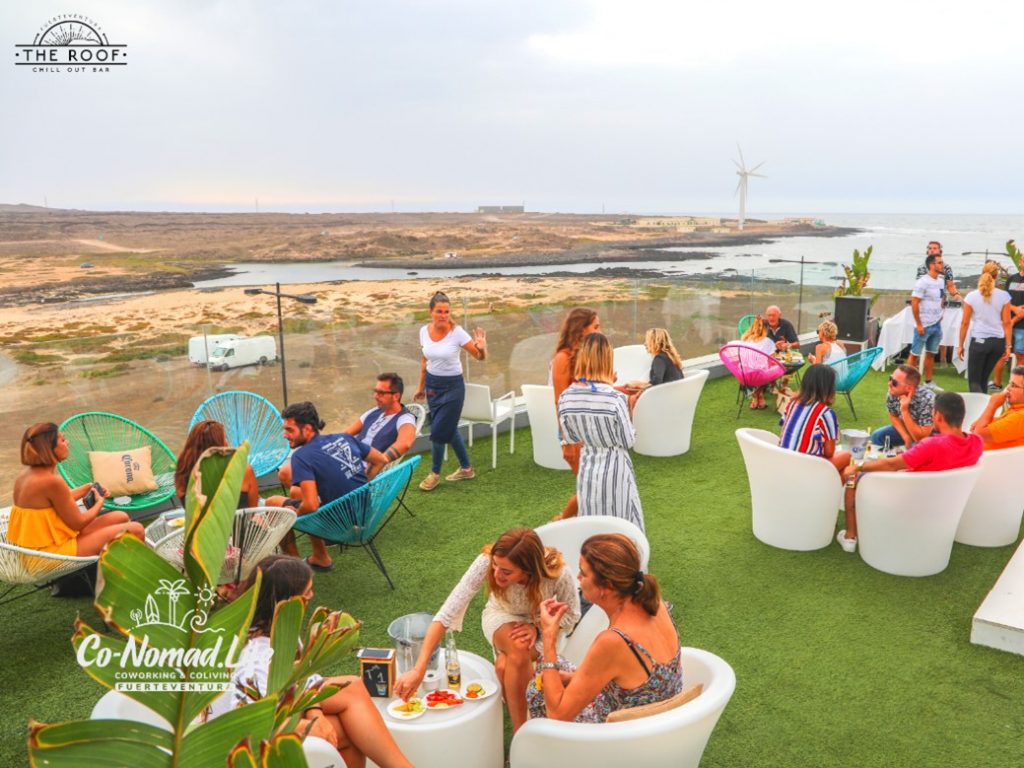 It's time to meet new faces, practice other languages with colivers from all over the world.
During this weekly "co-nomad-meet up", he hands out his business card and participates in inspiring talks with digital nomads on personal and professional development…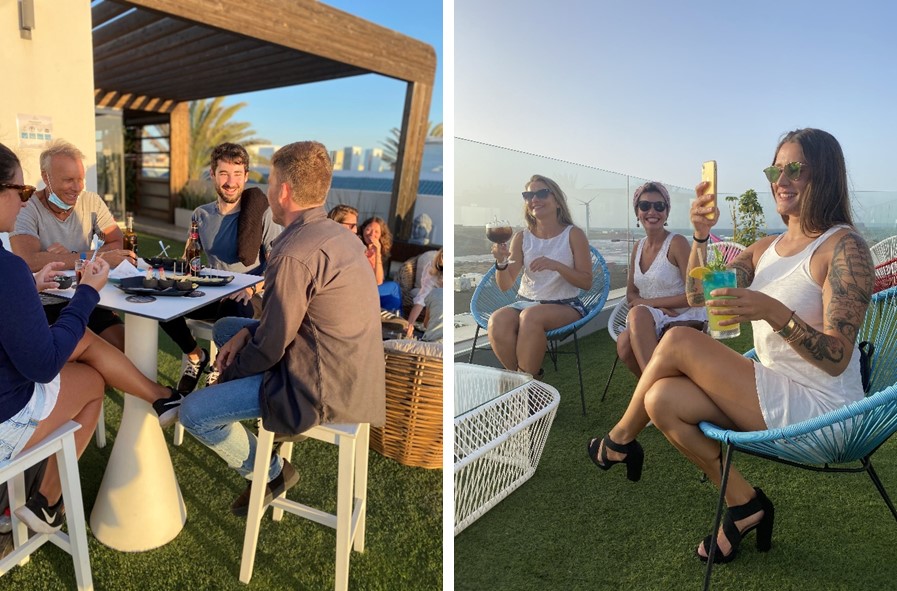 8:00 pm – dinner
At the Platanera restaurant – gastronomic bar located in Corralejo next to the apartment complex, you will find a delicious cuisine with seasonal products specific to the Canary Islands!
In a friendly atmosphere, Nathan enjoys a subtle mix of traditional Canarian dishes and international cuisine.
A great way to eat delicious, healthy and sustainable food in a typical seaside holiday setting…
A total disconnection with his hectic Parisian rhythm that offers the quality of life he has always dreamt of.
He can't wait for the weekend to get the surfboard out of the hotel locker or to do some kite surfing on the Atlantic rollers.
While waiting, we are heading back to Nathan's private room, in fact to the fully equipped apartment he shares with 3 other colivers.

We will end the evening sipping a house cocktail on the terrace of the apartment while listening to some lounge playlists on YouTube.
Finally, living and working in paradise is possible! Coliving in the Canary Islands, in Fuerteventura is just a click away.
Do you want to know more?
The Co-nomad offers several options for coliving in the Canary Islands: from shared apartments to private apartments to stay alone, or with your partner or friends.
Its packages include:
Accommodation in a fully equipped apartment with kitchenette with all amenities, hydro massage- Rain shower, most comfy memory foam bed mattress, Terrace or Balcony
Apartment Complex with Swimming pool, Seaview Roof terrace with Bar, Restaurant, Yoga-Hall and Reception staff in a privileged location only 5 minutes distance to City Centre and Beach
High speed WiFi in the whole ResortRoom cleaning once per weekOne Social Event per week, including 1 beverage and Tapas per person
Sport extra= choose between 1 Surf Class, 5 Yoga sessions or 3 days Bike rental. per person
Voucher for 30€ Dinner in our Restaurant "Platanera". per person
VIP access to the 24/7 Co-working space with access to printer, free coffee and tea and 6 hours weekly of a private cabin
Did this day make you dream of a better life? Are you ready to live for a few months in coliving in Fuerteventura (Corralejo) to discover this magical life, at an affordable price?
Submit your application on the Colivme platform and meet the colivers of the Co-nomad Life in Fuerteventura!
Categories: blog, coworking, events, experiences, Experiencias reales, gastronomy, landing wifi, services
« (Español) Dicen de nosotros…